Provoking what's possible
How to understand, act and embrace the future.
Aric Dromi is a highly respected keynote speaker, futurologist, geopolitical, environmental & social Strategist.
Aric spent years helping executives and decision makers to refine their offer and understand the potential impacts that lie along the road ahead. Aric's strengths lie in his ability to identify patterns and challenge them, along with his ability to use this skill to define new directions and experiments that provide a pathway forward.
With a long career in choice architecture and systems design, innovation and futurology, Aric believes that our world is on the cusp of seismic changes that society, business and policymakers are not prepared for. He believes strongly in humanity's ability to adapt and overcome, and thinks that technology has come to define, rather than serve us. He wants to change this equation, by working towards a more resilient societal model that enables a free market and a future for our children. He does this by providing strategic advice to organisations and executives, policymakers, cities and governments.
Aric is the Founder and CEO of TEMPUS.MOUU GROUP breakthrough Advisory board as a Service platform.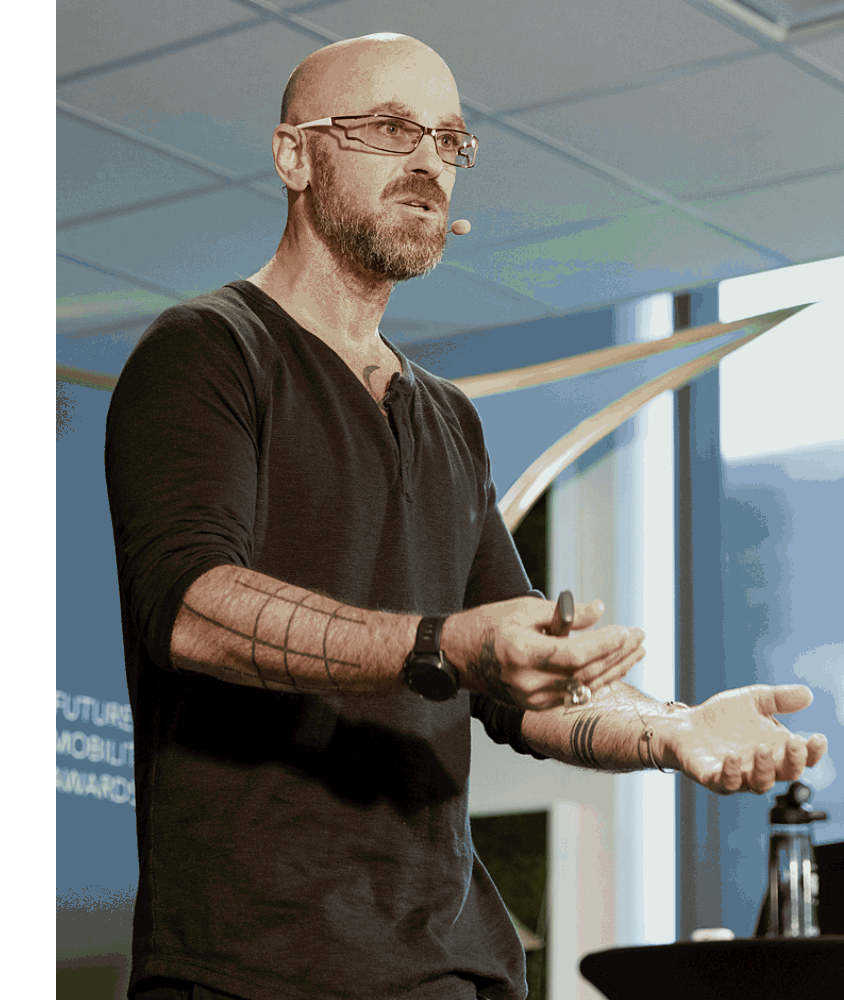 Clients and events Aric has supported.

MasterCard | Government of Moscow | FT | IFC | Master and Robots | ICAN | CIO Forum Australia / Sweden) | Government of Kazakhstan  | Siemens | QRTECH | The World Bank | AIB | BoAML | Hyper Island | mobilityXlab | Volvo cars | Concawe | BIBA | Business Sweden | Hack for Sweden | CIP | EIG | ISF | International business school | GEO Forum | EON | 4Games Changers | Future Tense | Sofico | Telefónica | Tera Data |  EXMA Colombia | Swedish Institute | Center of Fine Arts, Brussels | Göteborg's University | Chalmers | IDG | Innovatum
Helping executives and organizations to better understand the upcoming challenges and broaden the view on what is possible in the future.
Automation & fast tracking
Technology, process and human behaviours: how will automation and fast tracking impact business and society?
The smarter data dilema
The evolution of data driven Intelligent logistics, mobility, energy, communication.
Privacy, Surveillance & legislation
How will technology and human behaviour impact our privacy? Can legislation actually protect our privacy or is it there to legalise surveillance?
Geopolitical and social trends and impacts
The reciprocal relationships between policy, society and technology and their impact on how we navigate the future.
Social trends & new economic models
What came first, TikTok or human addiction? How is tomorrow going to be disrupted?
Adapting and rejuvenating cities
As we move back into a city driven governance model, what is the future of cities and urban structures?
Smarter innovation & monetization models
Successfully design and drive growth and prosperity in your organisation by rethinking your decision-making processes.
Jolting technologies
The next frontier of impact and intelligence amplification in the era of VR, AR, AI and the metaverse.
"Life isn't about waiting for the storm to pass. It's about learning how to dance in the rain." - Vivian Greene
The world is changing at an increasingly rapid pace, challenging societies, governments, and organizations to keep up.
"Survival of the fittest" does not necessarily mean being the fastest or the strongest, but rather being fit, agile and adjusted to your specific environment and time. This is as true for the individual as it is for business, governments, cities, and societies.
Since the invention of the axe, technology has been the force that paved the way for better and smarter social constructs. From Watt's steam engine in 1775, sewage systems, elevators, and shipping containers, to screens, smartphones, processing power, and machine-learning, it's the impact of technology which helps us to remove barriers and build new horizons. It's the one functions that never stops: it continually reinvents itself and defines new potentials. Over the past few years, a new wave of technologies has enveloped our world. Artificial Intelligence, robotics, genomics, biotechnology, nanotechnology, terotechnology, augmented and virtual reality enable business, consumers, and governments to re-examine and re-purpose every aspect of our social and financial interactions in real-time.
From Digital Twins to the cities we live in; from mobility, energy, and communication to new economic models – the ideas which form the basis of future societal and economic models must be anchored in new thinking.
Aric's keynotes, workshops, closed meetings and one-on-one dialogues are designed to offer strategic advice on various levels to organizations and executives. This includes supporting critical missions and addressing the strategic challenges facing authorities and commercial organizations.
His approach is intended to provoke you to better understand your pain-points, and designed to help you ideate, THINK, and more importantly ACT differently by providing you with the insights and intelligence you need to move forward, while strengthening your resilience and enhancing sustainability across the organization and on an individual level.
For speaking engagements, write to speaking@aricdromi.com